Mahajanga vente villa neuve quartier calme.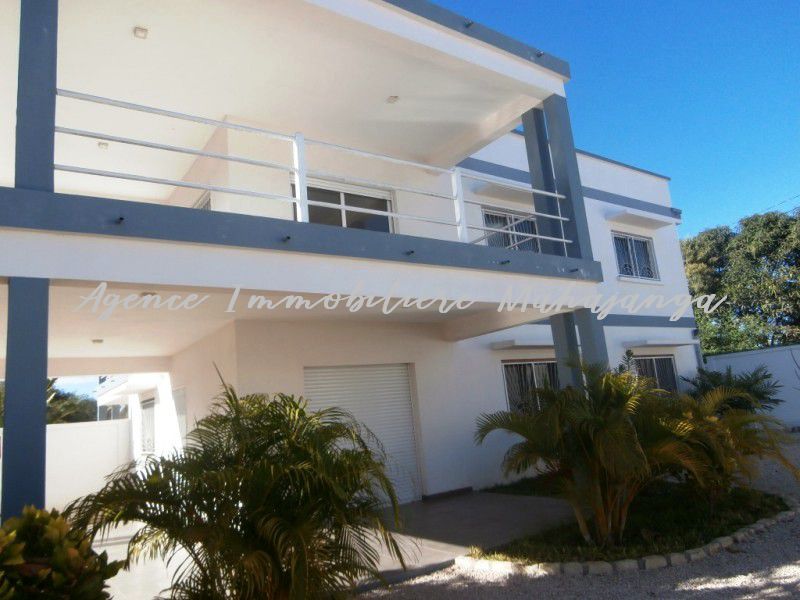 A vendre Mahajanga  dans un quartier calme, référence LMA104/17MB1, une villa accolée neuve situé à 5 mn du centre ville.
Cette villa  neuve de 250 m² de style contemporain   est construite sur un terrain de 350 m² titré-borné et elle dispose d'un joli jardin arboré. Elle est composée au rez de chaussée d'un appartement de type T2 comprenant un espace de vie ouvert sur une terrasse, une cuisine américaine, une réserve, une chambre, une salle d'eau et WC séparé.
A l'étage ; se trouve un appartement de type T3 comprenant, une entrée séparée du rez de chaussée, un espace à vivre ouvert sur une grande terrasse, une cuisine américaine, deux chambres, une salle d'eau et WC.
Cette villa est aménagée pour deux locations séparées avec compteur individuel Jirama ou pour une seule habitation avec un escalier intérieur reliant les deux appartements (cloison)
L'ensemble est clos de mur et sécurisé.
Prix de vente  118 000 € honoraires d'agence inclus.
Pour demander des renseignements au sujet de ce bien, vous pouvez nous écrire en utilisant
le formulaire de contact qui est sur cette annonce, nous vous répondrons rapidement. Si vous ne recevez pas de réponse dans les 24 heures suivant votre question, n'hésitez pas à la répéter, en vérifiant votre adresse: il nous arrive de recevoir des adresses e-mail incorrectes.
Retrouvez nous sur facebook:
https://www.facebook.com/AgenceImmobiliereDiana
https://twitter.com/immobilierdiana
Mahajanga new villa sale quiet area.
For sale Mahajanga in a quiet area, reference LMA104 / 17MB1, a newly built villa located 5 minutes from downtown.
This new villa of 250 sqm contemporary style is built on a plot of 350 sqm titled and has a beautiful garden. It is composed on the ground floor of a T2 type apartment with a living space open on a terrace, a kitchen, a reserve, a bedroom, a bathroom and separate toilet.
Upstairs ; is a flat of type T3 understanding, a separated entrance of the rez of putting on, a space to be lived opened on a big terrace, an American kitchen, two rooms, a room of water and TOILET.
This villa is arranged for two separate rentals with individual meter Jirama or for a single dwelling with an internal staircase connecting the two apartments (partition)
The set is walled and secure.
Selling price 118 000 € agency fees included
To request information about this property, you can write to us using the contact form that is on this ad, we will respond quickly. If you do not receive an answer within 24 hours of your question, do not hesitate to repeat it, by checking your address: we sometimes receive incorrect e-mail addresses.
Find us on Facebook:
https://www.facebook.com/AgenceImmobiliereDiana.
https://twitter.com/immobilierdiana.
Mahajanga vente villa neuve quartier calme.
Mahajanga sale per quietam area, referat LMA104 / 17MB1, novam cui proxima villa sita V minuta ab downtown.
Haec villa de CCL sqm novam hodiernae style fundatur super CCCL autem insidiamini titled sqm, undequaque terminatum et habet nice quod horto. TT 2 area humum apartment generis quorum unum est de vivis et aperta area onto a quibus cum animadversum est, culina, in piscinam, a cubiculo, separata CULTUS et balneo.
Et pavimento; et separatum est genus T3 apartment ostium in terra area, et aperire vivos spatium magnum in solarium ad culinam duo cubilia pastorum, a balneo et sellam pertusam est.
Haec villa sit apta in duobus locis separari per meter JIRAMA singula mansione forte ipse cum uno aut intus in similitudinem tribunalis blandit aliquam conclusionem unius extremitatis (partem)
Tota saepta muris munitum.